Get Your Kubota Industrial Engine Application Up & Running In Minimal Time!
Check Out Our Kubota Kits:
---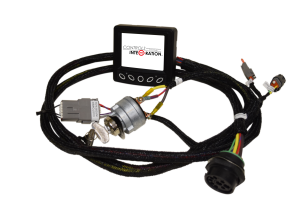 These kits consist of:
• Display/Controller
• Controls harness
• Engine harness
(fuse/relay-alternator-starter-fuel pump)
• Power harness
• Key Switch & Fuel sub-harness
• Relevant mounting brackets
Controls Integration Controls & Harness Kits for Kubota T4F/Stage V Engines – For use with KEA Intermediate Harnesses
Controls Integration is proud to announce a new line-up of kits that works with the KEA Intermediate Harnesses. These kits are designed to be plug and play and connects the operator with a key switch and display to the Kubota engine and all other relevant components – everything to get your engine and application up and running in minimal time. You have the choice of an economical but crisp 3.8" QVGA monochrome Murphy PV380 display or a full color high brightness 4.3" 16-bit WQVGA PV485 display.
Kubota T4F/STV Engine
Murphy Display
Controls Integration Kit
KEA Intermediate Harness Kit
03-CR-TE4B (DPF)
03-CR-TIE4B (DOC)
PV380
_______
PV485
KT00052
_________
KT00055
KEA07-65000/19091-99422 or KEA07-65100/19091-99423 or KEA08-65000/19091-99424 or KEA08-65100/19091-99425
07-CR-TE4B (DPF)
07-CR-TIE4B (DOC)
PV380
______
PV485
KT00053
_________
KT00056
KEA06-65000/19091-99426 or KEA06-65100/19091-99427
V3-CR-TE4B (DPF)
V3-TIE4B (DOC)
PV380
_______
PV485
KT00053
_________
KT00056
KEA05-65000/19091-99428 or KEA05-65100
V3-TIEF4B (SCR)
PV380
_______
PV485
KT00054- Coming Soon
___________________
KT00057-Coming Soon
KEA05-65200 (Also requires KEA DEF kit p/n KEA14-19800 w/harness p/n KEA14-65100)
Benefits:
• Complete plug & play solution that works with
the KEA intermediate harnesses
• Fully compliant with T4F/Stage V requirements
• Throttle control via the display with variable
speed throttle or analog throttle
• 5 configurable RPM setpoints – Iso or droop
mode
• Provision for Emergency Stop in the harness
• Operator configurable shutdown
• High quality harnesses that are tested per the
Kubota requirements and fully validated at KEA
Customize The Display
Controls Integration can custom program the display to include branding screens with your logo, as well as such things as custom
machine specic service reminders to full control of machine actuators and valves integrated into the display. If you can dream it our engineers can make it a reality. Optional I/O modules are also available.